About Us
The provision of appropriate health and safety training is an integral part of all health and safety programs and is a key component of due diligence in the workplace. Employers have an obligation to properly train their employees and supervisors to ensure that they are competent to perform their jobs, recognize the hazards of the job and understand how to protect themselves from these hazards.
With an extensive network of Health, Safety and Environmental professionals available locally, nationally and internationally, our training services team is well positioned and well suited to meet the needs of our clients. Combining flexibility with this depth of knowledge and practical experience allows us to design and implement practically any training course that you may require.
A number of our clients require training for their staff in multiple offices. As a result, our training group has become extremely proficient in organizing and conducting courses in varied locations and according to our client's schedules.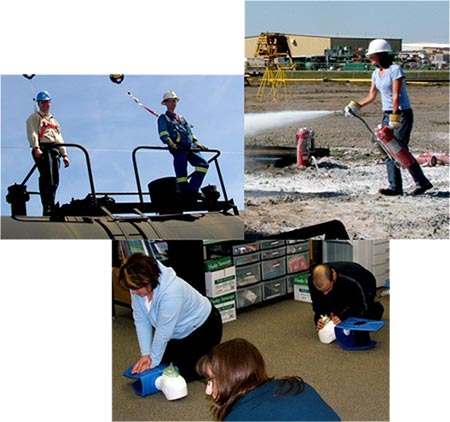 Why Choose AIP?
We believe strongly in the importance of safety training, and that prevention is always the best safety policy to follow. Providing individuals with the correct tools, resources and education and encouraging continual improvement in workplace health and safety environment is the first step.
AIP's commitment to safety is based on the vision to create a working environment that places the highest value on the welfare of the individual. Today great opportunities exist to implement world class safety and health management systems that protect both the individuals and the environment and advance the quality of life.
This belief, in conjunction with our understanding of client needs, flexible schedules, reliable instruction, quality courses and fair pricing, has provided us with the opportunity to supply training services to thousands of students over the past twelve years.
Subscribe to our mailing list
Values
Experience
Conducting health and safety training across Canada for over 12 years in private, government, manufacturers, real estate management and international companies.
Recognized Expertise
Our team has strong foundations in, and understanding of, the core elements and requirements of today's health and safety environment.
Accredited
Graduate School Trained Occupational Hygienists (M.Sc. and M.S.)
Certified Hazardous Materials Managers (CHMM)
Certified Industrial Hygienists (CIH)
Canadian Registered Safety Professionals (CRSP)
Best Practice
Our training services team employs a "beyond compliance" approach. Using practices and procedures that define cutting edge systems and standards.
Quality & Innovation
We are recognized for the incorporation of innovative approaches to complex problems and the delivery of quality services.