Details
This course is applicable to anyone who plans on enjoying outdoor activities in these regions and wishes to co-exist safely in the Bears natural habitat as well as workers who are stationed in some of these remote areas.
Upon completion of this course you will have a better understanding of the nature of bears and how to identify, avoid and prevent bear encounters in order to keep yourself, the bears and those around you safe. This certificate is available for a period of 3 years.
Course Description
The population of both Grizzly and Black bears is on the rise in western Canada with many bears frequenting the mountainous and foothill areas. This increase in bear numbers, along with the continued popularity of outdoor exploration and activities in both the Rocky Mountains and various parks and campgrounds throughout Alberta and BC creates the potential for a bear encounter.
Most confrontations between bears and humans can be avoided when people have a firm understanding of bear behavior and reasons for bear encounters.
This 4 hour Bear Awareness Training in Calgary is designed to provide individuals with information on bear avoidance, awareness and identification. This course includes both classroom theory and outdoor practical exercises.
Course Objectives
Black Bear and Grizzly Bear identification
Bear ecology
Understanding Bear behavior
Habitat and potential encounters
Hazard Recognition: food sources and bear signs
Preventative Measures: while hiking, camping or working in the field
Camp Set-up
Response techniques for encounters in the field
Non–lethal deterrents
How to safely use, handle and store bear spray
How to safely transport bear spray
First Aid Treatment for bear spray exposure
Review of the Material Safety Data Sheet (MSDS) for bear spray
Noise Deterrents
Outdoor practical demonstration on the proper use of bear spray
Frequently Asked Questions
How many Bear Awareness Safety Training courses are available?
We offer two Bear Awareness Safety Training courses: Train the Trainer – Bear Safety Training and Bear Awareness.
Is Bear Awareness Training available online?
Yes, we offer Bear Awareness Courses online for your convenience. Bear Awareness Blended is available. A portion of the course is offered online and, once completed, you attend our AIP location to complete the assessment portion.
What kind of content is taught in the Bear Awareness Training Course?
Our Bear Awareness Safety Training course teaches fundamental defence methods, including how to respond in a confrontation, bear behaviour, etc. This course is geared towards individuals working, living, or exploring regions inhabited by bears.
Why should I take Bear Awareness Safety Training?
The Bear Awareness Safety course is a necessity for workers who may be exposed to human-wildlife confrontations. This course is used by employers to train and educate their workforce who perform outdoor jobs close to bear habitats. It's also a good course to take if you frequent the outdoors for hikes, snowboarding, skiing, and other activities.
How long does it take to complete the bear awareness course?
This course is a 4-hour program designed to provide people with knowledge regarding bear escape, understanding, and identification.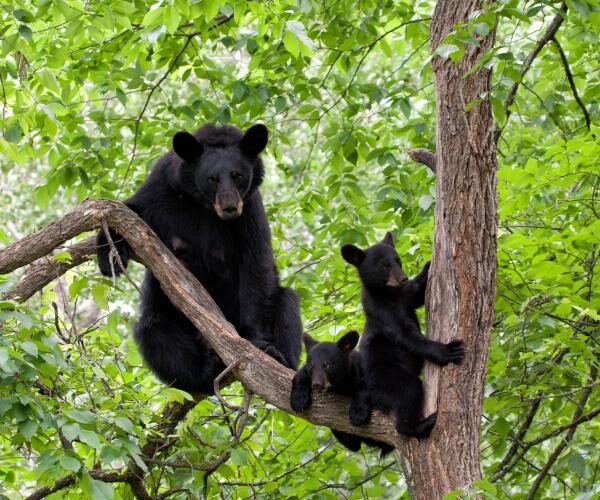 Blended Training
You can take a portion of this training online and finish in the classroom later.
Register Now (blended)